Christmas Home Decorating Ideas to Inspire You This Season
Christmas is my favorite time of the year. There's something about twinkling lights, the scent of cinnamon and pine, and glittering reds and greens that inspires me into a decorating frenzy.
But if you're like us, the Christmas season can get a little overwhelming, too. There's so many choices it's hard to know where to even begin. So we have put together this guide with Christmas home decorating ideas to help you transform your home into a magical Christmas haven that gets your family and friends into the holiday spirit.
So put on your fav Christmas CD, grab some apple cider, relax and browse through the topics below and be prepared to be inspired.
Focus on one signature room or area, then use simple decorative pieces throughout the rest of your house to tie it all in.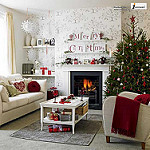 Find ideas and products organized by color-scheme to help you achieve that designer look.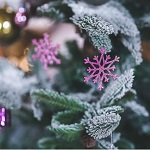 Read our product reviews on Christmas decoration essentials and browse some of our top picks.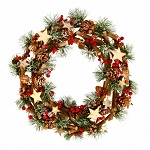 Getting Started – Keep it Simple
Christmas decorating – or any decorating, for that matter – is not complicated if you keep things simple. Believe it or not, if you limit and simplify your decorating, you will achieve a greater impact – not to mention saving yourself a lot of running around, stress, and having to clean up after the season is over. And you'll have more time to enjoy the Christmas wonderland you created with your family.
Just like most designers, following a few basic guidelines will help you stay on track and keep your room focused so you can achieve that designer look for Christmas.
1) Pick your focus rooms
This is the room where you are most likely to welcome or entertain your visitors and where the centerpiece – the Christmas Tree – usually goes. Common choices are the living room/family room, front entrance, and hallway. We rarely recommend the kitchen as a focus room due to its high daily usage, and reserve entertainment areas like the dining room or outdoor patio to be decorated closer to your event. This doesn't mean these rooms shouldn't be decorated for Christmas. We just recommend focusing your attention on more highly visible areas.
If you don't have a separate room, choose an area to be your focal area – such as the corner by the fireplace, or a clearing by the window.  (For smaller homes or apartments, the Christmas tree usually ends up being the focal "area.")
2) Pick your color palette
You can't go wrong with traditional green and red and when it comes to Christmas decorating, this color scheme somehow gets away with breaking a lot of rules.  However, for that designer look, you want to make sure your decorations tie in with your existing decor as well.
Monochromatic schemes have been gaining in popularity over the past few years, including Christmas trees in a variety of colours like blue or pink. If this is the way you want to decorate your home this Christmas, we've made it easy for you by grouping decorations by color.  We've also got some great ideas for decorating different types of room styles so be sure to check those out.
3) Planning your room & shopping list
When planning what decorations to put in your room, always remember this basic rule of thumb: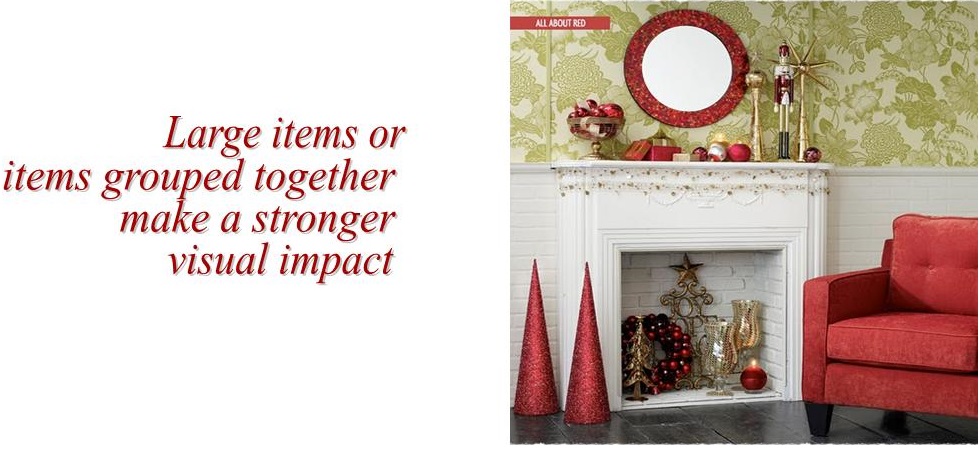 Photo by Style Estate Blog
Take stock of what you already have. Try to find some use for those beautiful Christmas decorations you've already collected over the years.  And if at first they don't seem to fit into your plans, think outside the box and see if you can find a way to re-use them or arrange them in a different way that will work.  We've got some simple projects that might help.
And before you rush off on a shopping spree, make sure to make a list of what you need, including quantity and size/length, and color.  Planning and preparation will avoid multiple unnecessary trips to the already overly crowded mall.
4) Finally – get started soon!
Before you know it, Christmas will be upon you and going shopping for Christmas decorations at the peak of the season will always result in heartache – either the item you were looking for is out of stock, or if ordering online, getting them delivered on time will either be expensive or not feasible.  So the sooner you can start planning and shopping for your Christmas decorations, the better.
We hope the following pages of Christmas home decorating ideas will inspire you and help unleash your inner decorator spirit.